Animal and Plant Science
Pocket Diagnostic®Plant Disease Test Kits
About Pocket Diagnostic
Pocket Diagnostic® is a range of easy to use, rapid lateral flow assay testing kits for on-site detection of damaging plant diseases caused by fungi, bacteria and viruses.
Pocket Diagnostic® in-field plant pathogen diagnostic kits were developed in 1996 by the UK Government (Food & Environment Research Agency, FERA) for use by plant health inspectors testing for potato and tomato diseases. The success of the products led to the formation of spin out company Forsite Diagnostics Ltd to lead the manufacture and commercialise of the kits.
Pocket Diagnostic® was subsequently rolled out to growers, farmers, agronomists, research institutes and private laboratories worldwide to enable them to realise the benefits of this technology. Since their launch, the high quality and reliability of these kits has led to their use in routine disease monitoring programmes and in response to disease outbreaks. Pocket Diagnostic® kits are recognised worldwide as industry leading plant disease detection kits.
In 2012 Abingdon Health Ltd acquired a controlling stake in Forsite Diagnostics Ltd, and since 2014 Forsite Diagnostics has been trading as Abingdon Health. To learn more about Abingdon Health Ltd please visit www.abingdonhealth.com.
Quality and Manufacturing
The kits are developed and manufactured in the UK using state-of-the-art equipment in controlled environment production facilities. Quality is at the heart of everything we do and therefore we are certified to international quality standards of ISO13485:2012 and ISO9001:2008.
Why use Pocket Diagnostic to detect plant disease?
* Cost effective solution to disease screening
* Enables on the spot disease management decisions
* Provides reliable results in minutes
* Removes subjectivity丨 n disease detection
How to use Pocket Diagnostic?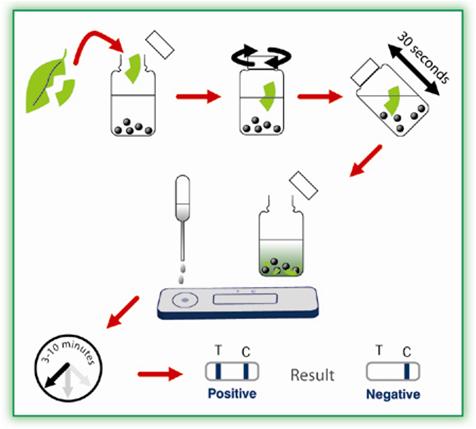 • Select a plant sample
look for symptomatic leaves, stems or roots
• Add to extraction bottle
shake bottle to break up the tissues
• Add to test device
add-2-3 drops to sample well using pipette
• Read test result
result is visible in 3-10 minutes
Ording Information
| | | |
| --- | --- | --- |
| Cat No. | Product | Package(T/Box) |
| PD51100 | Beet necrotic yellow vein virus | 4 |
| PD51114 | Cucumber mosaic virus | 4 |
| PD51123 | Erwinia amylovora | 4 |
| PD51113 | Impatiens necrotic spot virus | 4 |
| PD51110 | Pepino mosaic virus | 4 |
| PD51125 | Phytophthora | 1 |
| PD51126 | Phytophthora | 50 |
| PD51105 | Potato virus A | 4 |
| PD51106 | Potato virus S | 4 |
| PD51107 | Potato virus V | 4 |
| PD51104 | Potato virus X | 4 |
| PD51102 | Potato virus Y | 4 |
| PD51108 | Potato Multi-virus 3 (singles tests for Potato viruses Y, X and A) | 1 |
| PD51109 | Potato Multi-virus 5 (single tests for Potato viruses Y, X, A, S & V) | 1 |
| PD51119 | Ralstonia solanacearum | 4 |
| PD51120 | Ralstonia solanacearum | 50 |
| PD51111 | Tomato mosaic virus | 4 |
| PD51121 | Xanthomonas hortorum pv pelargonii | 4 |
| PD51121 | Xanthomonas hortorum pv pelargonii | 50 |